The Original Free Resource for the Vancouver Acting Community
The Original Free Resource for the Vancouver Acting Community
Askem Talent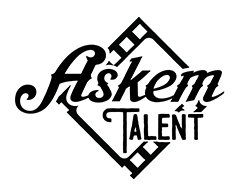 Represents
Background, Infants, Kids, Principal, Voice-Over
Guidelines
Send us a note introducing yourself with your resume, head shots, and any other media (demo reels, monologues etc.) to submissions@askemtalent.com.
About the Agency:
Askem Talent, established in 2018, is a licensed and bonded agency located in Kamloops, BC. In addition to representing the local film community, we book talent nationwide. 
Our mission is to manage creative talent across Canada while working with the local film community to foster and support its growth in the Interior and Okanagan of BC.
We take great pride in providing unparalleled service to our clients, local communities, and productions we work with.