The Original Free Resource for the Vancouver Acting Community
The Original Free Resource for the Vancouver Acting Community
Argent Talent Management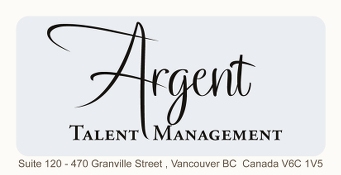 Represents
Kids, Models, Principal, Voice-Over
Guidelines
All interested Actors need to submit headshot, resume, demo of work and contact number via email.
Headshots need to be of good quality.
The point is to show your face clearly so the agent can get a good look at you.
The Agent will call the actor back to set up an appointment. Please do not call the office unless you have been contacted first.
We look for experience on the resume, good quality photos and interesting faces. All ages are welcome to apply.
PLEASE NOTE:
THE MORE PROFESSIONAL THE PACKAGE THE MORE IMPRESSED WE WILL BE!
Professional does not mean quantity. One or two professional headshots and a clear  - well set up resume is what we look for.
BEING SIGNED:
Our agency only takes on clients that are professional and really understand the company policy as far as auditioning and working. Actors must understand the number one priority for a Talent Agent is marketing them. An agent cannot market an Actor if the Actor is unprepared, unmotivated and/or unprofessional. We will release any Actor that doesn't behave in a professional manner.
About the Agency:
Tea Buechner is the Founder of Argent Talent, and the sole agent within. 
She has been representing actors in Vancouver for over nineteen years.
She is an Emily Carr, Fine Arts Honours Graduate,  a former stage manager for the Citadel Theatre and Fringe Festival in Edmonton, a former candidate for civic elections as well as a former lead singer & guitarist for a variety of local bands. Tea is a lover of conversation and story, and candid in her speech.