The Original Free Resource for the Vancouver Acting Community
The Original Free Resource for the Vancouver Acting Community
BookIT Talent Agency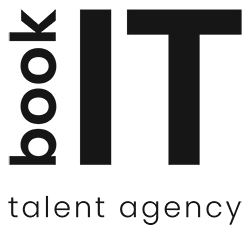 Vancouver and Kelowna, BC
Represents
Background, Infants, Kids, Principal, Voice-Over
Agent(s)
Brenda Connell (Owner and Lead Agent)
Melissa Schreder (Principal Talent)
Kathleen McElwain (Background Talent)
About the Agency:
Kelowna Address: #210-347 Leon Avenue, Kelowna BC, V1Y 8C7
Vancouver Address: #400–601 West Broadway Vancouver, BC, V5Z 4C2
BookIT Talent Agency is a national talent agency, representing Canada-wide, proudly established within the heart of the Okanagan Valley – Kelowna, British Columbia. Recently, after expanding our locations into Vancouver, BC, our agency's focus is to bring our talent to new levels of success within their Film & Television careers by providing them expert support & vetted guidance via several years of professional experience.
BookIT is owned and operated by industry veteran, Brenda Connell. BookIT hopes to bring dependable knowledge & credible connections to British Columbia's beloved interior and exterior regions. This agency is quickly becoming one of Kelowna's most sought-after agencies for representation due to their professionalism and reputable credentials.
We scout, groom & equip our talent with the necessary skills to succeed both on and offset. The BookIT family is expected to abide by our standards of professionalism, trustworthiness & innovative thinking as they build up their entertainment careers.
Our number one priority is ensuring our talent feels that they have a knowledgeable support system in place as they build their acting careers so that actors can focus on what they do best – book jobs! We are confident that you'll be able to trust in BookIT's management & leadership, as we help you work toward your desired Film & Television achievements.