The Original Free Resource for the Vancouver Acting Community
The Original Free Resource for the Vancouver Acting Community
Acting with William MacDonald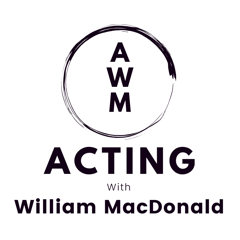 Launch A High Level Acting Career
ONLINE COACHING AND CLASSES:
Group Classes
Private Coaching
Audition Coaching
Demo Reel Creation
BENEFITS of Online Coaching:
You will be seen in the same frame (computer screen) that the Director and Producers do, and you will be coached accordingly. 
You never have to leave the comfort of your home.
You can work around your schedule, including for last minute auditions; or if you've been working all day and would like to squeeze in a coaching
the Private Tutorial package gives you and William four opportunities to start building yourself into the kind of On Camera actor you want to become. It will involve many different scenes and characters, and exercises specifically designed to emphasize your stronger qualities, find focus where you need it, strengthen the qualities that need strengthening, go deep, relax, and throw it away !!
With over 30 years of experience in the Canadian Theatre, Film and TV Industry, William MacDonald has over 200 credits to his name. Making him one of Canada's most experienced and versatile actors.
2018/2019 Recurring Roles:
Riverdale's Warden Norton (Netflix)
Ridley Scott's The Terror (AMC)
Unspeakable (CBC)
Good Doctor on (ABC)
Travelers (Netflix)
On camera class
A high energy class where we examine the language of the camera - what works and what doesn't. We will cover audition technique, private moments, as well as scene study. I will be introducing new techniques every class; the emphasis is on empowering the actor to find their own specific Creative Individuality, and to show up on set and in the audition rooms with the confidence to make bold, daring choices and to be present and available to your partner and director.
"A brilliant acting mentor who brings a unique spin to Uta Hagen and your own organic process. A teaching style that pushes the fourth wall and breaks the rules of acting. The results in training under Bill MacDonald are raw, honest and connected performances delivered from start to finish." -Patrick W.