The Original Free Resource for the Vancouver Acting Community
The Original Free Resource for the Vancouver Acting Community
On The Mic Training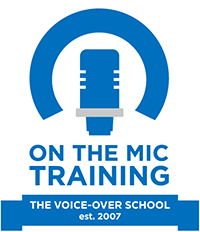 On The Mic Training is the only voice-over specific school in North America to offer a government certified 6 month full-time program (The Comprehensive Voice-over Training Diploma Program). We also offer a multi-level part-time curriculum in Commercials, Animation, Video games, Audio Books, Dubbing and Narration for ALL levels and ALL ages.  
Our mission is to provide you quality, practical voice-over training with measurable results.  We prepare you to meet the actual expectations of the industry, worldwide, by helping you discover your authentic self on the mic and by giving you tools that allow you to express yourself fully, both emotionally and vocally.
Our award-winning instructors are some of the most successful voice-over performers in North America with a minimum of 15 years of professional experience, who are constantly working and are heavily plugged into the business.  
We work with every level and every age - so no matter where you are on your voice-over journey we have the right training that will suit your needs, from complete beginner to working professional.
Subscribe to our mailing list and receive notice about upcoming events, classes and workshops as well as auditions that are specifically for On The Mic subscribers and/or students.